Esercizio 3
Completa le frasi con il corretto aggettivo possessivo:
I have got a new cd player. …… cd player is new
You speak English well. …… English is very good
Tom has got a dog. ……. dog is very cute
Sheila has got a lot of dreams. …… dreams are ambitious
My house is very old. …… origins date back to 1850s
We have got two cats. ……. cats are Pussy and Mussy
You are always correct. …… behaviour is always correct
Emma and Robert have got two children. ……. children attend my school
Qui trovi la soluzione.
---
Annunci Google
---
Inglese Online
---
Test Inglese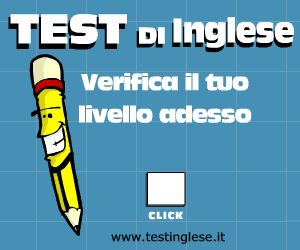 ---
Scopri il nostro Video Corso "Didattica Inclusiva DSA e BES" utilissimo per genitori, insegnanti, psicologi, logopedisti, educatori ed altri professionisti che desiderano una formazione di base sui principali aspetti clinici relativi ai BES ed ai DSA e sulle esigenze concrete degli alunni.


Tutte le informazioni sul Video Corso sul sito: www.videocorsodsaebes.it


---
i contenuti di questo sito sono curati dagli specialisti del
Centro Sapere Più - a Milano dal 1996 al servizio di chi studia