Esercizio 5
Per ciascuna frase scegli la forma corretta di superlativo relativo fra quelle proposte:
My sister Anne is the more young/the youngest of the whole family
The film we saw yesterday was the most boring/the boringest film I've ever seen
She's the most nice/the nicest girl of my class
Your accent is the most bad/the worst/the baddest  I've ever heard
The situation is the most catastrophic/the catastrophicest we've ever experienced
You're the most old/the oldest/the eldest of the two, but you look the most young/the youngest
The house we live in is the most small/the smallest we've ever had
Is Mount Everest the most high/ the highest mount in the world?
I don't want to spend too much money, so I take this one, that is the most cheap/ the cheapest
Today is the most warm/the warmest day of the whole Summer
Qui trovi la soluzione.
---
Annunci Google
---
Inglese Online
---
Test Inglese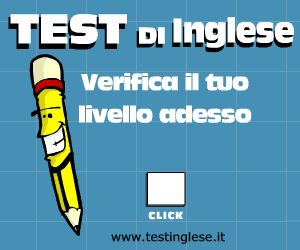 ---
Scopri il nostro Video Corso "Didattica Inclusiva DSA e BES" utilissimo per genitori, insegnanti, psicologi, logopedisti, educatori ed altri professionisti che desiderano una formazione di base sui principali aspetti clinici relativi ai BES ed ai DSA e sulle esigenze concrete degli alunni.


Tutte le informazioni sul Video Corso sul sito: www.videocorsodsaebes.it


---
i contenuti di questo sito sono curati dagli specialisti del
Centro Sapere Più - a Milano dal 1996 al servizio di chi studia