Esercizio 1
Pubblicato da
The Teacher
il 11 Ott 2010 in
Past Simple
|
0 commenti
Trasforma le seguenti frasi al tempo Past simple apportando le opportune modifiche e/o aggiunte ai complementi di tempo:
You're at school now
They are at home now
You play tennis on Mondays
She starts working at 9 o'clock
We want to find another house
We aren't satisfied
He hasn't got any Scottish friends
You don't study Russian
They don't want to change their idea
She doesn't think so
Are you happy today?
Is she at home today?
Do you sleep till late?
Does he smoke cigars?
Do they always arrive so late?
Qui trovi la soluzione.
---
Annunci Google
---
Inglese Online
---
Test Inglese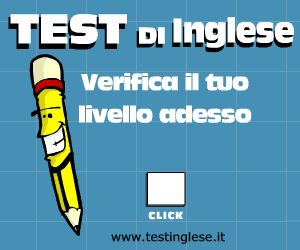 ---
Scopri il nostro Video Corso "Didattica Inclusiva DSA e BES" utilissimo per genitori, insegnanti, psicologi, logopedisti, educatori ed altri professionisti che desiderano una formazione di base sui principali aspetti clinici relativi ai BES ed ai DSA e sulle esigenze concrete degli alunni.


Tutte le informazioni sul Video Corso sul sito: www.videocorsodsaebes.it


---
i contenuti di questo sito sono curati dagli specialisti del
Centro Sapere Più - a Milano dal 1996 al servizio di chi studia