Esercizio 1
Pubblicato da
The Teacher
il 10 Ott 2010 in
Present Simple
|
0 commenti
Completa le frasi inserendo il verbo tra parentesi nella forma corretta.
Usa la forma affermativa.
I always (to go) to the cinema on Saturdays
You (to like) tennis  very much, don't you?
Walter often (to listen) to music after finishing his homework
Sheila (to live) near London
My cat always (to play) with me
We (to think) that she has gone crazy
You often (to forget) to pay your debts
They (to work) in a book shop
Qui trovi la soluzione.
---
Annunci Google
---
Inglese Online
---
Test Inglese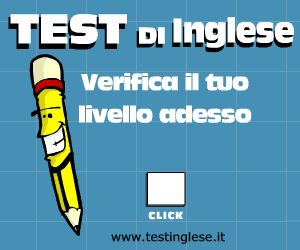 ---
Scopri il nostro Video Corso "Didattica Inclusiva DSA e BES" utilissimo per genitori, insegnanti, psicologi, logopedisti, educatori ed altri professionisti che desiderano una formazione di base sui principali aspetti clinici relativi ai BES ed ai DSA e sulle esigenze concrete degli alunni.


Tutte le informazioni sul Video Corso sul sito: www.videocorsodsaebes.it


---
i contenuti di questo sito sono curati dagli specialisti del
Centro Sapere Più - a Milano dal 1996 al servizio di chi studia