Esercizio 2
Pubblicato da
The Teacher
il 10 Ott 2010 in
Some Any No
|
0 commenti
In queste frasi – tutte negative – inserisci any o no:
She hasn't got ….. friends here in Milan
You haven't got …… good records
I'll have to take a taxi, I've got ….. choice
I don't need ……. help
I need ……. help
Have you got any books for me? Sorry, I have got ……. books
I agreed with  …… proposals you made, sorry
I have got ….. time at all
I felt completely confused, I had ….. ideas about what we could do
We don't know …..  serious journalist who could forget to ask such an important question
Qui trovi la soluzione.
---
Annunci Google
---
Inglese Online
---
Test Inglese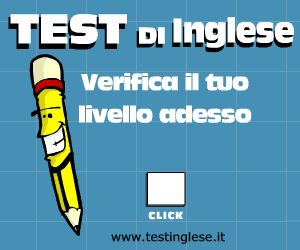 ---
Scopri il nostro Video Corso "Didattica Inclusiva DSA e BES" utilissimo per genitori, insegnanti, psicologi, logopedisti, educatori ed altri professionisti che desiderano una formazione di base sui principali aspetti clinici relativi ai BES ed ai DSA e sulle esigenze concrete degli alunni.


Tutte le informazioni sul Video Corso sul sito: www.videocorsodsaebes.it


---
i contenuti di questo sito sono curati dagli specialisti del
Centro Sapere Più - a Milano dal 1996 al servizio di chi studia