Esercizio 1
Pubblicato da
The Teacher
il 10 Ott 2010 in
Verbi Modali
|
0 commenti
Completa le frasi con CAN o CAN'T a seconda del caso:
John …… dance tango very well, he's a perfect dangero
I'm too tired, I ……. play tennis today
…….. you explain me this subject, please?
Mary ……… come with us because she's studying
Look! That's a surprise, Tom ….. act as a true actor
I …… find Emma's telephone number, ….. you help me?
My little brother ……. ride a bike yet, he's only two years old
……. Sara tell us what really happened last night?
My granma ……. cook a great pasta, I love going there for dinner
…… my friends and I go out tonight? Yes, you ……, but don't be late
Qui trovi la soluzione.
---
Annunci Google
---
Inglese Online
---
Test Inglese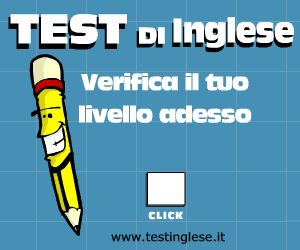 ---
Scopri il nostro Video Corso "Didattica Inclusiva DSA e BES" utilissimo per genitori, insegnanti, psicologi, logopedisti, educatori ed altri professionisti che desiderano una formazione di base sui principali aspetti clinici relativi ai BES ed ai DSA e sulle esigenze concrete degli alunni.


Tutte le informazioni sul Video Corso sul sito: www.videocorsodsaebes.it


---
i contenuti di questo sito sono curati dagli specialisti del
Centro Sapere Più - a Milano dal 1996 al servizio di chi studia