Esercizio 1
Completa le seguenti frasi con la forma corretta del verbo to be.
Usa le forme non contratte:
My name … Bond
We …. the champions
Chantal and her mother …. from France
I … fine, and you?
It …. 1.30 p.m.
You …. my best friend
Tom …. a very good tennis player
Our parents …. at home now
Sheila ….  a journalist
I … 20 years old
Qui trovi la soluzione.
---
Annunci Google
---
Inglese Online
---
Test Inglese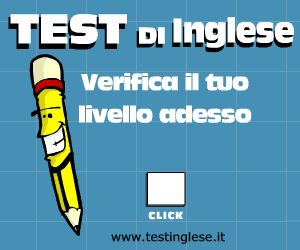 ---
Scopri il nostro Video Corso "Didattica Inclusiva DSA e BES" utilissimo per genitori, insegnanti, psicologi, logopedisti, educatori ed altri professionisti che desiderano una formazione di base sui principali aspetti clinici relativi ai BES ed ai DSA e sulle esigenze concrete degli alunni.


Tutte le informazioni sul Video Corso sul sito: www.videocorsodsaebes.it


---
i contenuti di questo sito sono curati dagli specialisti del
Centro Sapere Più - a Milano dal 1996 al servizio di chi studia