Esercizio 1
Trasforma le seguenti frasi dalla costruzione data (anch'essa corretta) alla costruzione più tipica della lingua inglese che prevede lo spostamento della preposizione:
Esempio:  The boy with whom he's talking is John —-> The boy he's talking with is John
The friends with whom I made my journey to Australia are Tom and Sara
The man for whom I've bought this present is my dad
Can you tell me the shop from which you got this rare book?
What's that music to which you're listening?
The girl to whom I spoke yesterday comes from Egypt
The solution for which you're looking is not that difficult
The problem about which we talked yesterday is more difficult than I thought
The car at which I'm looking may be John's car
Qui trovi la soluzione.
---
Annunci Google
---
Inglese Online
---
Test Inglese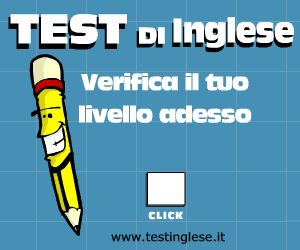 ---
Scopri il nostro Video Corso "Didattica Inclusiva DSA e BES" utilissimo per genitori, insegnanti, psicologi, logopedisti, educatori ed altri professionisti che desiderano una formazione di base sui principali aspetti clinici relativi ai BES ed ai DSA e sulle esigenze concrete degli alunni.


Tutte le informazioni sul Video Corso sul sito: www.videocorsodsaebes.it


---
i contenuti di questo sito sono curati dagli specialisti del
Centro Sapere Più - a Milano dal 1996 al servizio di chi studia