by William Shakespeare
Pubblicato da
The Teacher
il 4 Mar 2011 in
Letteratura
|
0 commenti
Hamlet by William Shakespeare
Summary / Riassunto
Outside the castle of Elsinore in Denmark, a ghost is getting around. He looks like the dead king. His son, Prince Hamlet, listens to his words and has a confirmation of his suspicions that his father has been murdered by his uncle Claudius, who is the present king of Denmark and who has married Hamlet's mother. The ghost begs Hamlet to revenge his death and Hamlet decides he will.
Since he doesn't want anyone to know about his intentions, he pretends to be insane. His mother Queen Gertrude and his step-father Claudius understand something is wrong with him and ask two friends of his, Rosencrantz and Guildenstern, to find out what it is. A supposition is that he may have gone crazy because of his unhappy love with Ophelia, the daughter of Polonius, King Claudius's right-hand man. But Hamlet's conversation with her proves he is cold and scornful towards her and women in general.
Following his plan to discover if Claudius is really guilty, Hamlet has got a new idea. An acting troupe is arriving at the castle so he decides to use the actors to enact a play showing the events of King Hamlet's murder as told by the ghost and to observe Claudius's reactions. Hamlet's expectations are true: when the murder is shown, Claudius jumps up and leaves the room.
Now Hamlet wants to kill Claudius, but he hesitates. During a conversation with his mother, Hamlet tells her about his suspicions and criticizes her for her not being loyal to his father. He does not realize that Polonius is hiding behind the curtains and when he hears a noise Hamlet stabs the person behind the curtains. He thinks he is Claudius, but it is Polonius he kills. Claudius, on his turn, has already decided to send Hamlet away to England and has secretly arranged for Hamlet to be killed during his journey.
The ship Hamlet is on is attacked by pirates but he manages to escape and return to Denmark. In the meantime at the Castle Ophelia is desperate because she has been refused by Hamlet, who even killed her father. Laertes, Ophelia's brother, is coming back from France to revenge his father, but when he arrives he finds out that his sister has drawn herself. Claudius convinces Laertes to seek his revenge against Hamlet so they arrange a fencing match between Laertes and Hamlet. The plan is that Laertes will use a poisoned sword so that he can kill Hamlet during the match, but in the case Hamlet is the winner the King will supply him a poisoned cup to drink from. Hamlet is injured to death but, before dying, he kills Laertes. The Queen dies after driking the poison that had been prepared for Hamlet. Before dying Hamlet asks his true friend Oratio to tell his story. Fortebraccio, Prince of Norway, arrives and becomes the new King of Denmark.
Must know / Da sapere
The most important theme is revenge, considered and analyzed with a psychological approach. Hamlet wants his revenge but is not brave, he hesitates, he takes time, he wants to understand all the implications of his actions. This is the essence of his personality, he is too much of a thinker and his tragic weak point is his inability to act
Psychoanalytical approach to Hamlet personality: is Hamlet really mad? Or does he use madness to protect himself and to make it possible for him to move and speak more openly? Does he suffer from a very serious Oedipus Complex?
Famous monologue, Act III, Scene I  "to be or not to be………………."
---
Annunci Google
---
Inglese Online
---
Test Inglese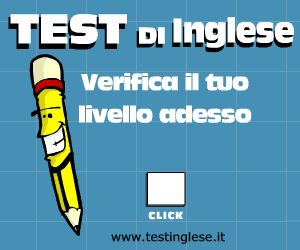 ---
VACANZE IN SARDEGNA
Attirano più che mai, le sirene in Sardegna, e se il mare è "onirico"...
Continua a leggere >>

VACANZE ALLE EOLIE
Sono sette, sotto l'egida dell'Unesco e da lontano sembrano...
Continua a leggere >>

VACANZE IN BASILICATA
Basilicata o Lucania? È uguale. Almeno dal 1175, anno in cui compare...
Continua a leggere >>

VACANZE IN CAMPANIA
Mare in Campania significa innanzitutto Costiera amalfitana e sorrentina...
Continua a leggere >>

VACANZE IN LAZIO
Il mare da film, nel Lazio, è nell'immaginario collettivo quello dell'Arcipelago Pontino...
Continua a leggere >>

VACANZE IN LIGURIA
Liguria: un arco, punteggiato da borghi aggrappati alla terra...
Continua a leggere >>

VACANZE SAN VITO LO CAPO
Adagiata su una lingua di terra che si protende nel mare come una falce...
Continua a leggere >>

VACANZE LAMPEDUSA
Di fronte ad Agrigento e in mare aperto si stagliano due fra le più struggenti...
Continua a leggere >>

VACANZE NELLE MARCHE
Poco meno di duecento chilometri di litorale da Gabicce...
Continua a leggere >>

VACANZE A PONZA
Ponza, Ventotene, Palmarola, Zannone, Gavi e Santo Stefano...
Continua a leggere >>

VACANZE CINQUE TERRE
Nella Liguria di Levante l'Unesco accende i riflettori sulle Cinque Terre...
Continua a leggere >>

VACANZE CAPO PALINURO
E' un autentico tesoro di bellezze naturali, il Parco Nazionale del Cilento...
Continua a leggere >>

VACANZE IN FRIULI
Oltre alle spiagge, lagune dal sapore mitteleuropeo...
Continua a leggere >>

VACANZE IN PUGLIA
Tra l'Adriatico e lo Ionio, la Puglia si srotola per oltre...
Continua a leggere >>

VACANZE A RIMINI
Rimini è come il jazz: c'è dentro di tutto...
Continua a leggere >>

VACANZE A VENEZIA
A Venezia molto di più che ad Amsterdam, Burges o Pietroburgo...
Continua a leggere >>

VACANZE ARGENTARIO
Maremma da marismas, da marais, da marshes, da marecages, la radice...
Continua a leggere >>

VACANZE IN CALABRIA
Due mari, due coste, due paesaggi. E un punto nel quale...
Continua a leggere >>

VACANZE ISOLA D'ELBA
Secondo un'antica leggenda, le sette isole dell'Arcipelago Toscano...
Continua a leggere >>

VACANZE IN TOSCANA
Arte e storia hanno modellato la Toscana facendone un immenso teatro...
Continua a leggere >>

VACANZE IN VENETO
Oltre Venezia, sette località a tutto mare con spiagge ottimamente attrezzate...
Continua a leggere >>

VACANZE IN ROMAGNA
Si incomincia all'alba con le passeggiate sulla battigia, si prosegue di sera...
Continua a leggere >>

VACANZE COSTA DEL SOL
La chiamano Costa del Sol in omaggio all'astro che la lusinga...
Continua a leggere >>

VACANZE QUARNERO
Sembrano una galassia gettata nel mare da un gigante distratto...
Continua a leggere >>

VACANZE A MALTA
Si declina al singolare ma è composto da una pluralità di isole...
Continua a leggere >>

VACANZE SLOVENIA
Si snoda per circa cinquanta chilometri, la costa slovena...
Continua a leggere >>

VACANZE NORMANDIA
Non c'è tratto del litorale normanno che non sia celebre grazie a un quadro...
Continua a leggere >>

VACANZE IN GRECIA
Creta, Rodi, Mykonos e Santorini: un poker d'assi di destinazioni...
Continua a leggere >>

VACANZE AZZORRE
"Il mare per gli açorenhos è come la strada per chi vive sul continente, si esce...
Continua a leggere >>

VACANZE COSTA AZZURRA
"In Francia il Mediterraneo lo chiamano anche "Grand Bleu". E la Costa Azzurra...
Continua a leggere >>

VACANZE IN CROAZIA
"«Scegliamo innanzitutto un punto di partenza. Poi diventa meno importante...
Continua a leggere >>
powered by vacanzeinonda.it